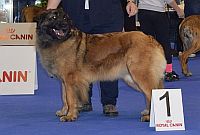 | | | |
| --- | --- | --- |
| Follow Me If you can of New Wind | Chocolate Extra Dark | Elwira Exclusive For Grand Aiveko |
alias Didi, narozena 3.2.2020. Krásná vzpomínka na cestu za tatínkem Follow. Byla zima, sníh a Litva a Lotyšsko v tomto období jsou krásné... Po nakrytí šlo vše hladce, ale po Silvestu a ohnostrojích (a stres) Elwira začala ztrácet štěnata. Smířili jsme se s myšlenkou, že žádná štanata nebudou. Stal se ale malý zázrak. 1 štěně se udrželo a to je naše DIDI. Narozená císařským řezem. Zdědila mnoho ze svého otce. Je to zázračné Baltické štěně.
alias Didi, born 3.2.2020. A beautiful memory of the trip to Follow daddy. It was cold, snow and Lithuania and Latvia during this period are beautiful... Everything went smoothly after mating, but after New Year's Eve and fireworks (and stress) Elwira began to lose puppies. We accepted the idea that there would be no stanzas. But a small miracle happened. 1 puppy kept and this is our DIDI. Born by caesarean section. She inherited much of her father. He is a miraculous Baltic puppy.